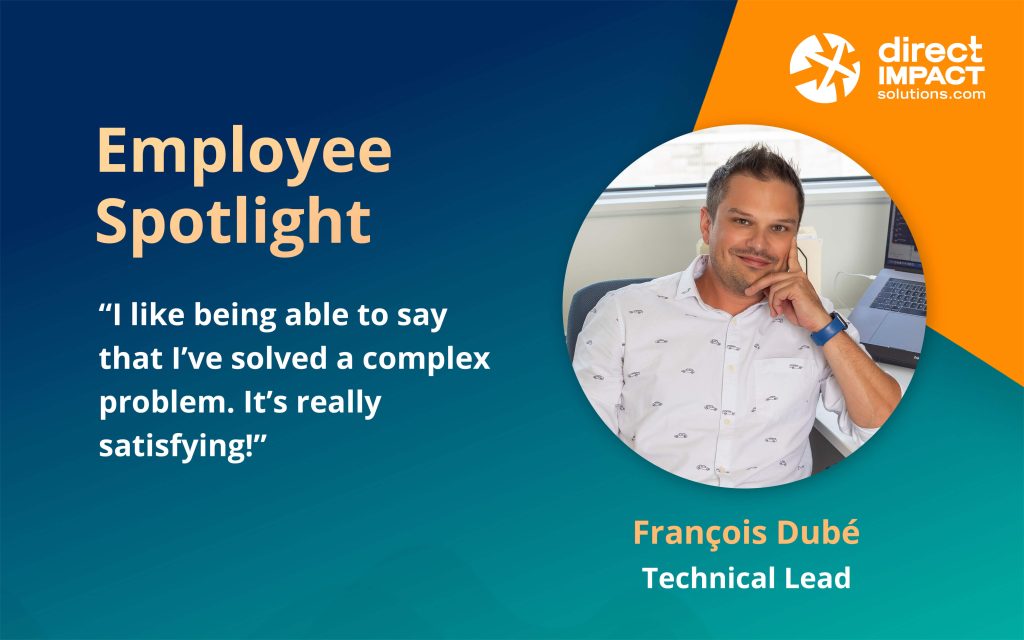 When asked to describe what a technical lead does, François Dubé, who's held the position for over three years, answers with a smile: "You do a lot of things!" It's a great role for this curious guy who's always up for learning more about FileMaker and everything computer-related.
After graduating as an engineer in automated production with a specialization in industrial computing, François began his career as a solo programmer. A few years later, he was looking to join a team, to work with people from whom he could learn more. The stars soon aligned: he met Philippe Lazzaroni at a conference and joined Direct Impact Solutions in 2013 as a project manager.
François now helps development teams address technical challenges, creates customized training and defines FileMaker best practices based on the latest advances. "I like being able to say that I've solved a complex problem. It's really satisfying," he says. This family man puts his problem-solving skills to good use in his hobbies when building Lego block creations with his children—or on his own. "It allows me to build something. I see a connection with programming. Putting pieces together to build a greater whole…" Cerebral during the day and more manually inclined in the evening and on weekends, François places great importance on work-life balance, which he feels is very well integrated into Direct Impact Solutions' culture and contributes to his attachment to the company.
Part of his mandate as technical lead involves teaching courses outside the company, notably at UQAM. The opportunity to acquire and transfer knowledge are great motivators for him. "There's no training program for FileMaker development. We can offer courses. We're training a niche workforce." He believes that young people who specialize in this platform will have better job opportunities due to the high demand.
September 2022, François will make his first in-person presentation at the Conference of Quebec Developers for FileMaker. He will discuss the OData data exchange format, a standard that's now integrated into the platform. We're confident he'll teach his Quebec colleagues as brilliantly as he does our team!