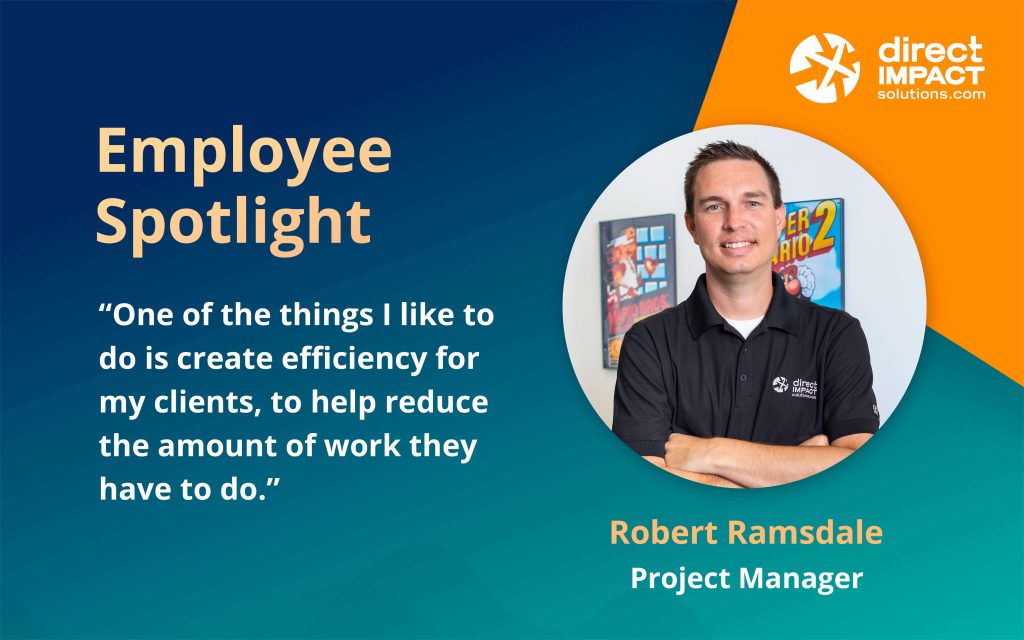 Working in his dream field
A project manager of a web team focused on client success, Robert Ramsdale joined Direct Impact Solutions at the very beginning of the COVID-19 pandemic, in March 2020, following the company's acquisition of CoreSolutions Software, his previous employer.
Growing up in Dorchester, Ontario, Robert knew early on that he wanted to study computer science. His decision was quickly confirmed the day his parents gave him a computer as a gift. But the path he ended up taking to achieve his dream was anything but conventional.
Indeed, Ramsdale obtained his computer science degree at Savannah State University in Georgia. A talented baseball player, he had obtained a scholarship to play his favourite sport while studying in his chosen field.
Now the father of two little girls, he lives in London, Ontario, and continues to excel on the baseball field and at work.
Efficiency first
Anyone who comes in contact with Robert will immediately notice that he is a forthright person. He wastes no taste on superfluous words. Each word is considered, thought out. He seeks to apply this efficiency, a true occupational bias, in all the projects he delivers to his clients.
"One of the things I like to do is create efficiency for my clients, to help reduce the amount of work they have to do," he explains. "I like the idea that our client can save time and focus on other aspects of their business, rather than having to work for two weeks on reports that I can generate in just two seconds at the press of a button."
Passion: the key to success
As you can imagine, software development is a profession that requires rigour and perfectionism, two qualities that don't come naturally to most of us, but which we can develop through hard work.
For Robert, the aspect that makes all the difference is passion. He believes that he stands out through his thirst for knowledge which stems from his passion. "Things are constantly and rapidly changing, so we have to stay motivated and keep our knowledge up to date," he says.
In Direct Impact Solutions, Robert has found a company where his boundless curiosity is rewarded with a wide variety of unique projects. And when asked about the secret to always delivering clients the excellence they deserve and respect, he replies: "You just have to love what you do!"